ICN #1: FOCUS MARK STREET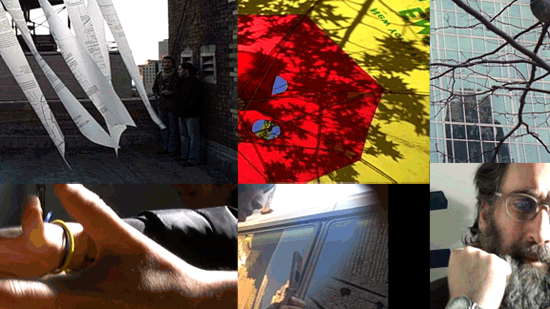 in the presence of the director
a screen talk following the screening
5 films - 65mn
Friday April 15th, 2016, 20h
Videodrome 2    49 Cours Julien / 13006 Marseille tel. 33 4 91 42 75 41
Five films to meet a director who plays with film and video, attracted by the color, material and daily movement that produces the life.
Winterwheat (16mm, 8', color, 1989)
Made by bleaching, scratching and painting directly on the emulsion of an educational film about the farming cycle. The manipulations of the film's surface created hypnotic visuals while also suggesting an apocalyptic narrative.
Sliding off the Edge of the World (16mm, 7', color, 2000)
A stab at depicting fatherhood: fleeting images burst onto the screen only to recede from view just as quickly, suggesting transition and decay. Tendrilsof images cluster together and then dissipate. A snowy walk, kids enthuse and infuse my own daily rhythms, affording great joy but also making it clear that all things change all the time.
Blue Movie (16mm, 5', color, 1994)
"
A smattering of repeated performances culled from old porno films and hand painted. A man bends over a body, but what we really notice is the texture of the wall behind him. A woman stares back at the viewer with annoyance. On the soundtrack Anais Nin declares: "but while I'm doing this I feel I'm not living."
Collision of Parts (video, 15', color, 2008
)
A kaleidoscopic reverie recorded over a period of five years in various urban milieus. An excavation of the concept of montage: small moments public and private brush up against each other, creating a charged tapestry of the immediate. Inside and outside, motion and stasis, home and travel, light and dark: a series of contrasts do battle.
Still Here (video, 26', color & b/w, 2015)
The empty nest swirls around him and a filmmaker shoots a series of stills in and around the city. His only sibling dies, he ages and politics offer a brief reprieve. He tries various medicines but ultimately ends up irrevocably himself.
presentation of the films and discussion with Mark Street


Mark Street
Mark Street graduated from Bard College (B.A, 1986) and the San Francisco Art Institute (M.F.A., 1992). He has shown work in the New York Museum of Modern Art Cineprobe series (1991, 1994), at Anthology Film Archives (1993, 2006, 2009), Millennium (1990,1996), and the San Francisco Cinematheque (1986, 1992, 2009). His work has appeared at the Tribeca (5 times), Sundance, Rotterdam, New York, London, San Francisco, New York Underground, Sarajevo, Viennale, Ourense (Spain), Mill Valley, South by Southwest, and other film festivals.
His work ranges from the abstract (Winterwheat, 1989; Echo Anthem 1992; Fulton Fish Market, 2004, Trailer Trash, 2008) to improvised narrative feature films (At Home and Asea, 2000; Rockaway, 2005).
His projects have been supported by a number of grants from foundations, including the Jerome Foundation, the Film Arts Foundation, New York State Council on the Arts, the Maryland State Arts Council and the NY Experimental TV Center. In 2006 he was asked to participate in the Hallwalls Artists Residency Program in Buffalo, NY.
Some of his film work has been performed live (at Tonic and Galapagos in NYC) with accompanying musicians, including Marc Ribot, Zeena Parkins, Bradford Reed, Guy Yarden and Jane Scarpantoni. In 2007 at Hallwalls he presented a multi media show entitled Inside and Out: Infected Districts and Memory Lanes with Buffalo performance and music groups Real Dream Cabaret and Open Music Ensemble.
He has curated and judged several film and art exhibitions including Ventana al Sur: An Evening of Argentine Experimental Film (with Lynne Sachs) at Anthology Film Archives and Pacific Film Archive in 2009 as well as Video Landscapes (2005) and Real Abstractions (2007) both at Fordham University's Center Art Gallery.
Two of his personal essays Film is Dead: Long Live Film and Festival of Flight appeared in Film Arts Magazine in 2008. An essay about film funding Who's Asking? appeared Millennium Film Journal # 51 entitled Experimental Documentary, An Argentine excursion: film frames and talk therapy (with Lynne Sachs and Pablo Marin) appeared in the Spring 2009 issue of Gonzo Circus.
He has led community workshops a variety of venues (Echo Park Film Center in LA, Cucalorus Film Festival in Wilmington, NC, Fondacion d'Arte Contemporaneo in Montevideo Uruguay) on a variety of topics, including The Devil is in the Details: Urban Street Videography.
He is Assistant Professor of Film in the Visual Art Department at Fordham University—Lincoln Center where he teaches film/video production and other courses that engage contemporary artistic practice.
http://markstreetfilms.blogspot.com
http://www.markstreetfilms.com
tel: 718 522 5856
email