CLOSING NIGHT 2002
July 6, 21h
concert Belladonna 9CH
Daki Ling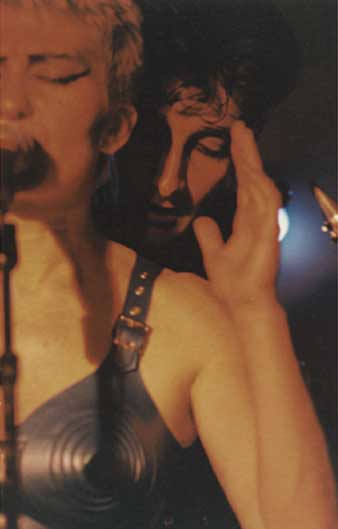 Photo Cathy Peylan
A concert played by Belladonna 9ch with a simultaneous projection of the video
Méta-Morphoses
by Claude Ciccolella
,
will close the festival.
2 amazons who revisit electro-pop, combining groovy dance floor and modern and medieval instruments, with humour and energy. A sensual, poetic and punchy alchemy, a daring musical mix: house, pop, electro, oriental, a surrealistic and provoking , sexy touch. The Belladonna 9ch are an extraordinary duo, full of good-tempered humour and energy. A new album "Morsures" : Romantic ballads, songs murmured into a pillow, a 56 min. journey of furious house and nostalgic trance.
Meta-Morphoses
made after the live video, directed by Claude Cicollela, of a concert of Belladonna 9ch in June 2001 at the Luna Loca, Toulose. This video plays with the borders between reality (live images) and virtual reality (the "psychedelic" version of that reality), and crosses this border by mixing the sounds and images. The musicians are on the screen, in front of and in the screen, playing with different levels of lecture… The sound and the image melt together and the spectator navigates between two dimensions.
www.belladonna9ch.com