CLOSING NIGHT 2009
July 11
20h30
111 fois marseille géographie intime by jean-paul noguès
48mn, b/w, DV, stereo, endogène 2009
Lices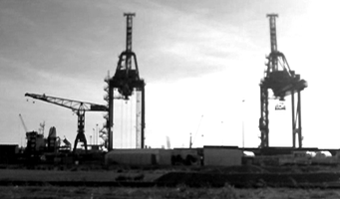 synopsis
the singular look of a man over the city where he was born
40 years of life together memories thoughts emotions
about a changing city
111 sequence shots for 111 districts
a visual story between documentary and autobiography
between walk and introspection
historical note
the geography of marseille turns around the idea of
districts
historically 111 districts were created by the decree n°46 – 22.85 of october 18th 1946 each one of them corresponding to the villages surrounding the old port
even if since these old times the growth and the metamorphosis of the town have modified the real boundaries of some districts the rule of the 111 districts remains
tecnical note
tired of the high definition race set by the movie industry and the tv media and wishing to find an image matter recalling archives and urbanity my various experimentations led me to shot this film entirely with a cell phone
purpose
simply look at the city
open the eyes sit down and make time to feel the streets the architectures the contrasts the movements the people
examine from different angles the reality of marseille in relation to what it was years ago through the development of life
to go round the city like to do the round of oneself
a forgotten neighbourhood reveals a memory hidden in the unconscious a dark zone
an enlightner of forgotten emotions
travel in the city to feel these places and my feelings
player of my city
music
mars
jean-françois pauvros & makoto kawabata
48 minutes
Jean-Paul Noguès
Born in 1967. Lives and works in Marseilles, France.
Jean-Paul Noguès has grabed his first camera in 1975, being cameraman for a super 8 film shot at the end of the primary school ! Bass player in different rock bands between 1988 and 1995, he has studied cinema in Aix-en-Provence where he passed, in 1993, under the supervision of Nicole Brenez, a Master entitled "The rock representation in movies from 1970 to 1981".
Location manager for cinema and television, he has became during almost ten years curator for the short-film international competition of the Festival Tous Courts (Aix-en-Provence, France) where, since 2001, he has been in charge (in collaboration with Emmanuelle Sarrouy) of the experimental program. He became president of the festival in 2008.
Since the dawn of the XXIst Century, Jean-Paul Noguès has begun filming in digital video. His films are talking about love, body, intimacy. They work on the image penetrating the heart of matter, of texture, and rediscovering the abstraction coming from daily life, from woman's body, from man's body. For it is always urgent to speak about love, and since the gift of oneself is intimately connected with a certain anxiety of loss, his films are oscillating between terror and passion.
"The starting point of my films is always a nocturnal appearence of an image linked to an idea. From then on, I work often on already shot footage, constructing, deconstructing, modifying images and sounds. Then, I shoot again and continue my work. It is a long process of research to end in a sensation that is very precise in my head. I have an aim to reach, the ways need to be discovered, to be experimented"
Among a number of screenings, his films have been showed in the following festivals : Cinemas Differents (Paris, France), Cote Court (Pantin, France), Videoformes (Clermont-Fd, France), Tous Courts (Aix-en-Pce, France), Oberhausen (Germany), Rotterdam (Nederlands), Instants Video (Mar del Plata, Argentina), Images Contre Nature (Marseille, France), Arrets sur Images (Charleroi, Belgium), Underground Lausanne (Switzerland), Extreme Love autour de Philippe Grandrieux (Tokyo, Japan), at the Tate Modern (London) and the Cinemathèque Française (Paris, France).
Filmography
111 fois marseille géographie intime (48 min / 2009)
Dire avec les yeux (6 min / 2007)
Rosée nocturne (7min / 2006)
Corpus (80 min / 2005)
Corpus, installation (48 min / 2005)
Elle et le loup (7 min / 2004)
The Ring Mix (7 min / 2004)
Flammes nues (6 min / 2003)
Elana (5 min / 2003)
Coda (26 min / 2002)
Ogres (7 min / 2001) 
In Vivo (7 min / 2001)
Co-directed with Emmanuelle Sarrouy
DV Life 2001 à 2005 (5 x 52'/ 2001-2005)
Endogène
Marseille, France
http://www.endogene.fr/
email
Created in 2007, Endogene is a new production company of documentary, fiction and experimental films. Refusing to follow a straight political line, the will is to present works out of the mainstream stereotypes of tv and movies, being close to art and experimental cinema. The only slogans are personal subjects, formal openness, plastic and discursive freedom.