OPENING NIGHT 2009
Lices - 7 juillet
19h
concert Caminos Cruzados - 45 mn
20h15
CologneOFF IV - Here We Are! - 68 mn
19h
concert Caminos Cruzados
Sandra Rivas, voice and divers sounds
Alain Jouele, voice and percussions
Dan Roth, saxophones and bass clarinet
"This «terrestrial» concert proposes a form of instantaneous composition and intense sound experiences, a mix of sounds and vocal matter from the poemarios of Sandra Rivas, composite and percussive incantations from Alain Joule and saxophonic cries and murmurs from Dan Roth. In this proposition the sound matter (produced vocally and with diverse acoustic instruments)is made according to a superposition and juxtaposition principal of sequences. During the concert a selection made, arbitrament or not, of different moments or parts which compose the piece. These are recorded live and re diffused, becoming «sound strata» of a live composition. The means used are principally vocal and acoustic. The result is a journey on crossing paths, sound spaces formed of cycles, progressions towards a polyphony which is not forcibly harmonic, but rather dynamic. A woven space of sounds and their resonances."
http://www.myspace.com/kamukaiduo
http://www.myspace.com/danrothim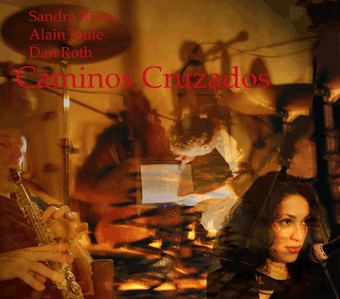 20h15
CologneOFF IV - Here We Are! curated Wilfried Agricola de Cologne
"
Here We are!
– this is a statement of self-confidence, that tells the people: Look, that's the way we are, and we are proud of it!
But that is not done from a position of overestimating oneself, rather from a critical point of view, critical on oneself and the environment, the social, political, cultural and personal conditions the authors are living in.
Each selected video does it in a very individual way. The authors found their personal language of using the medium of the moving pictures based on the characteristics of a typical mentality, identity and humour. EAST meets WEST, philosophy meets pragmatism.
The videos appear as colourful as the world is they are representing.
Here We Are!
"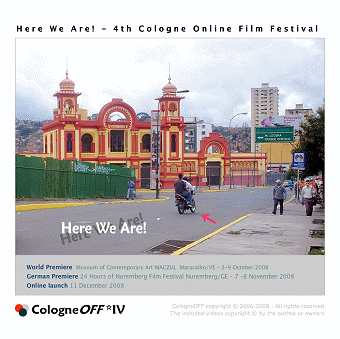 ETUDE de Dario Bardic
3mn20, couleur, son, 2007, Croatia
An étude (a French word meaning "study") is a short musical composition designed to provide practice in a particular technical skill in the performance or to demonstrate technical virtuosity. Video ETUDE takes this definition to the upper-(visual) level.
It is a surrealistic experience that stimulates everyone's subconsciousness. It questiones the human relations and the eternal pursuit of perfection.
Testimony de Nhieu Do
7mn12, couleur, son, 2008, Vietnam/USA
Testimonials of an art student in three parts—Comfort Zone, The Flame, and Reflection.
Reigning Cats and Dogs de Michael Fortune
15mn, couleur, son, 2007, Irlande
Reigning Cats and Dogs is the title of a video work recorded in the artist's family home in rural Co. Wexford, Ireland in December 2006. The fifteen-minute video work contains various recordings that frame mini incidents involving the family pets. Filmed from the animal's perspective, each fixed-frame shot portrays a domestic-styled wildlife documentary where animals co-exist, share and interact in a house full of humans and other animals. Each recording was made at different times and stages of the day and so allows the viewer to witness the calm and chaotic rhythms which exist in the daily household routine.
Is Fighting Our Machine de Liu Wei
4mn10, couleur, son, 2003, China
We experienced in the past an era when life was full of revolution and fighting, when class struggle dominated society. In modern-day China, we rarely witness such battles, but the struggle continues. In the commercial society we now live in, money has become the dictator ruling people's lives. It has become fashionable to pursue wealth. Desire leads us into a new battle, a whirlpool from which it is impossible to escape. And in this endless struggle puts a heavy burden on our emotions.
Actually the combat between reality and virtuality in my works can be traced to my childhood memory abounding in various combats. When we human beings are obsessed with violent virtual games and vehement struggles in real life, do we control the games of combats or vices versa?
Who is Miri Nishri? de Miri Nishri
14mn, couleur, son, 2008, Israel
The movie begins with a question – who is Miri Nishri? This question will continue to haunt us as the mystery unravels but is never to be resolved. Many characters puzzled by this enigma are looking at us from the screen with various answers, only more puzzling. Some of them claim that they were Miri Nishri for a while, others give vague details of the life and identity of a woman of that name as fuzzy memories of a long forgotten meeting or relation. Miri is an entity build from random associations and shreds of being and identities who seldom add up.
JOINED AT THE HEAD de David Jakubovic
4mn, couleur, son, 2008, USA
A monologue from the play 'Joined at the Head' comes to life as Jim confesses his guilty, personal feelings about what he is going through as his wife is dying. Imagination, thoughts and reality, as well as past and present, are all mixed up as a picture is painted about a deep confusion in Jim's mind, as he confronts love, hate and hopelessness of a situation he can do nothing about but observe.
A growing white stone de Shoko Toda
14mn34, couleur, son, 2008, Japan
The film was inspired from my experiment of staying in Sarajevo every summer for 2003~2007. I made this narrative film on the theme of flowing identity between cultures. This story is of one Japanese woman.
"I have visited in Sarajevo, BiH every summer. The first time to visit there is already 5yars ago. At small grave stone maker's shop I found a gravestone which had the name as same as mine. The stone maker with a beard like a lion said "She ordered this stone, but she has not come to take it for years." Then I began to investigate about her.For these years I have met people who said to know her. I talked with them and took their photos.
One day I thought she wanted another gravestone or something..I start to design new gravestone for her and me.I found the photo album that seemed to belong to her. When Looking photos of her summer life, I felt to smell of green plant, so I imaged that and designed stones.With new information about her, the gravestone drawn on notebooks has been changing again and again. One winter day I was in another country. I was surround with loud explosions of fireworks and firecrackers.Those intense explosions didn't stop for 3days and nights.It is a ritual to celebrate a happy new year on sky and ground. The gravestones drown by me were getting to spread like a fireworks.In Sarajevo we can see fireworks on the opening day of the film festival.
I have heard that she always was looking forward to seeing that.I decide to shot a firework for her and me in another far country.When I was in roar of fireworks I was remind of those white gravestones.In the course of time I come not to know where I stand on."
"Switch" de Yu Cheng Yu
4mn32, couleur, son, 2008, Taiwan
Click the Button "Switch", you will change your first life.
CologneOFF - Cologne Online Film Festival
http://coff.newmediafest.org
It was founded in 2006 as a part of VideoChannel – video project environments - in the framework of [NewMediaArtProjectNetwork]:||cologne , the experimental platform for art and new media operating from Cologne/Germany.
CologneOFF – represents a new type of mobile film & video festival which is taking place simultaneously online and offline, it becomes a physical festival through the screenings on cooperating partner festivals.
Under the direction of Wilfried Agricola de Cologne, CologneOFF realized since 2006 four festival editions
April 2006 CologneOFF I - identityscapes
This 1st festival edition was dealing with the aspect of "identity"
http://downloads.nmartproject.net/CologneOFF_1st_edition_2006.pdf
October 2006, CologneOFF II - image vs music
The 2nd edition is dealing with the competition between image and music
http://downloads.nmartproject.net/CologneOFF_2nd_edition_2006.pdf
November 2007, CologneOFF III - "Toon! Toon! - art cartoons and animated narratives"
The 3rd edition is dealing with the wide field of animation
http://downloads.nmartproject.net/CologneOFF_3rd_edition_2007.pdf
Oktober/Dezember 2008, CologneOFF IV Here We Are!
The 4th 4.edition had its world premiere in Venezuela, Maracaibo & Caracas
http://downloads.nmartproject.net/cologneOFF_4_off.pdf
For November 2009, the launch of the 5th CologneOFF festival edition is planned.
CologneOFF is based on the successful concept which installs an exchange between virtual and physical space. The success is underlined by the numerous cooperations taking place.
Together with VideoChannel, VIP – VideoChannel Interview Project and VAD – Video Art Database, CologneOFF forms an unity in the framework of [NewMediaArtProjectNetwork]:||cologne.
A special screening program, entitled "CologneOFF invites…." is taking the cooperating partnerfestivals into account, featuring their best festival contributions.