INSTALLATION 2009
installation composite n°1 / cinq portraits by Alain Joule
Art\Positions -
between June 25 and July 25
Tuesday to Thursday, 15h to 19h
varnishing
June 25, 18h30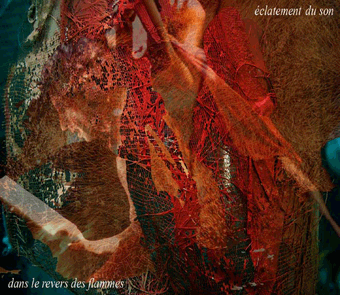 Argument
This multimedia installation constitutes a bridge, a passage that marks both the end of teleportation composite n°1 and the beginning of teleportation n°2
Description
A wall of brambles 500cm x 200cm covers a clear surface, a video is projected onto the totality of a wall (images excerpts from rituals of quintalogue 2 (land/ water/ fire/ air/ city)
Five photos "mattered" worked like a painting, hang on the wall rectangles (sort of basins 2cm high filled with sand, leaf and part water (on a liner)) are disposed on the floor along the walls where the works are hung.
A computer available to visitors proposes the ensemble of the video portraits made in the framework of "Teleportation n°1". This sound environment, spatial and interactive was made by Jonathan Zwaënepoel; thought of as a musical composition, the sound extension of this device generates it's own force, also it encompasses, structures and orchestrates the inherent sound of the works.
A web version of this installation is available at :
http://alainjoule.com
Three performances are programmed
1- Opening in a T form for the varnishing
2- Collision axis in the middle of the exhibition time presents raw energies which clash.
3- S spiral at the end of the exhibition will give the starting signal for Teleportation composite n°2
These three performances are linked to the world by the "Solitude partitions".
Alain Joule
Alaine Joule works on the interaction between visual arts ( painting, sculpture, installation), sound arts (written and improvised music, instrumental, vocal, and electro-acoustic), movement arts (dance action choirs) and poetry to be read or heard.
http://alainjoule.com/
email
Art\Positions
36, rue d'Aubagne 13001 Marseille
tel. : 33 4 91 04 07 23
http://www.myspace.com/artpositions
email
Daniel Roth
Artistic Director