EXHIBITION théâtre des Chartreux 2012
Julien Chesnel
between July 11 and July 14, 17h to 22h
Varnishing Day
July 10, 18h30
Théâtre des Chartreux 105, avenue des Chartreux / 13004 Marseille tél. 04 91 50 18 90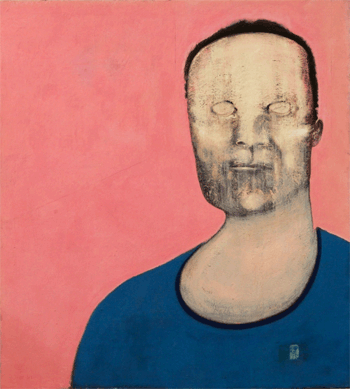 Julien Chesnel
In his paintings, Julien Chesnel uses a chimeric combination of acrylic and oil. Two different times are the cause of the pictorial material. Two speeds, two running times (fluidity, drying): the speed, slow and successive, of the oil and the speed, quick and instant of the acrylic. The Matter of face painting is borned from a confrontation. A double front or again a face to face. As a kind of Janus with, in cross section, a mirror grafted in the middle of the skull.
Title of painting: face. Or archive the body. Of the living spirit of the body. Still alive, physically. Not a sign of an intimate world but a world introjected landscape. Janus: a dual front of the "panic matter" that ejects what we are calling, in moving their lips in a fuchsia pink mouth, erased or in swinging the mandible in the mirror of flesh, individual.
biography
Julien Chesnel was born in Rouen in 1974. After studying literature at the university he left France. Thus began a period of training abroad: long stays of 2 years in Yemen. Meanwhile he began studying Arabic and obtained a scholarship which enabled him to go and study in Egypt.
After graduation, he moved to Italy, to Naples, where he began painting. There he founded the collective II Lanificio which includes painters, photographers and architects. The group organizes the first exhibition of Julien Chesnel. During his long stay in Naples, Julien Chesnel published in collaboration with Mathieu Imbert, writer, a magazine of art and literature.
Back in France in 2007, Julien Chesnel moved to Marseille. He co-directed with Emmanuel Vigne in 2009 an experimental film "Zone portuaire" presented at the 2010 Festival of Marseille, and during the Closing of Images Contre Nature 2011. Its core business remains the paint and the daily work of the workshop.
Galerie Paradis
180 rue Paradis 13006 - Marseille
contact : Jean-François PASCAL
tel. : 33 4 91 02 10 04
email
www.paradis-galerie.com/
www.facebook.com/galerie.paradis