EXHIBITION Théâtre des Chartreux 2013
Mises en vue
by Daniel Roth
between July 10 and July 13, 2013, 17h to 22h
July 9, 2013, 18h30
varnishing Day
--> Opening Night
Théâtre des Chartreux 105, avenue des Chartreux / 13004 Marseille tel. 33 4 91 50 18 90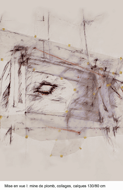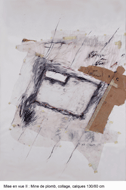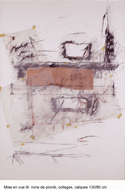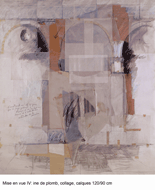 click on the images
Mises en vue
Memory of the architecture / Architecture of the memory
Daniel Roth photographs of destroyed buildings. Editing, this photographs are falsified; collages, they become sketches for large format drawings where the layer, pencil, charcoal redeploy the lines of an elementary cube. By breaking and erasing the line built a sculpture project, the culmination of an architectural ruin. Emerges, penciled by black holes, constantly tilting from plan to volume, a space to rebuild. Something yet of peaceful escapes to the disaster that neither deletions, erasures and scratching do not exacerbate , it must be, beyond representation, the quality of the winning form through the hesitations: the presence coveted of the eye - ours - that looks at and remembers.
Annie Chèvrefils Desbiolles
Daniel Roth
Born in 1958
First noticed for his paintings in the early 80 by Jennifer Fly at an exhibition organized by Ben Vautier in Nice, then at an exhibition at the Contemporary Art Museum of Strasbourg in 1985, his work was also presented several times at the FIAC in 1983, 84 and 85. In 1986, he awarded the Monbusho scholarship that will allow him to live and work for 3 years in Japan (Kyoto-Tokyo). Taking advantage of this new scenery, his work focuses then to sculpture and installation that will be showen at several exhibitions throughout Japan between 1986 and 89. Back in France, Daniel Roth will preserve this essential link between his work and travelling which always renewed an inspiration expressed through a thematic of tracks and displacement. During his last exhibition in 2011 at the Passage de l'Art in Marseille, the writer and art critic Emmanuel Loi wrote: "Daniel Roth shows us the stages of transformation - you can climb or stand by, the undecidable is s not sellable - he invites us into his studio to attend a work in progress, at the same time how things are coming to him, how they seize, barely formed, to modulation. Prints and drawings are part of the ongoing process : Showing them, associate them means take into account the waiting of the visitor and thwart it. ".... "We are obviously here in the avant-garde tradition: supposed to be in the studio, close to the artist, almost in his head, we collect items or diagrams (photos, drawings, sculptures, sound) being auxiliaries . Differences and routing are not readable iterms of a binomial denounciation fission - agglomeration. If we fill up the gap too fast, we exhausts the translational movement. To appreciate the work, it is advisable not to rush too fast in order to see. A pattern of breakpoints. Because of no idealization there, less of enthusiasm for formatting and selling charms. The topography of destitution which is arranged don't leaves any place for the struts. The handsaw of the ego does not sing. The material ity dominates, somehow it is the work of a materialist who reminds us that every image has its shroud."
This presentation would not be complete if we did not also take into account the musical work of Daniel Roth, focused on the notion of improvisation in jazz which he develops with the group Zaj Quartet. The exhibition of 2011 "E.C.H.O" developed precisely the permanent interaction of image and sound: "The work on sound haunts Daniel Roth, he uses membranes speakers like hyperbolse, strange neutral buttons from where labial whispers , leakedwords and waterfals come outl. He especially does not want to idealize, to add sense. No, the sound sculpture breaks small the little advantages that a too fast visit might suggest." (E. Law, JSO, Spring 2011)
email
http://artpositions.wix.com/daniel-roth-plasticien