CLOSING NIGHT 2016
by P'Silo & Videodrome 2
Videodrome 2/ 49 Cours Julien 13006 Marseille tel. 33 4 91 42 75 41
Sunday July 10
21h encore, en corps - 62mn
4 / 5 euros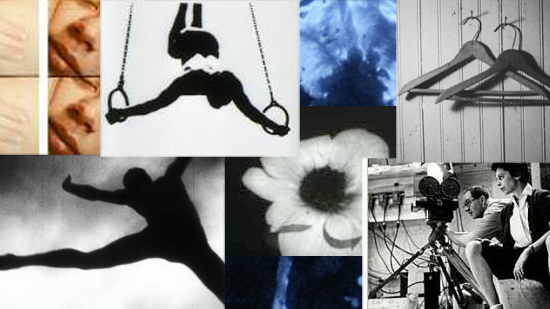 Étude cinématographique sur une arabesque by Germaine Dulac
1929, France, 7 min
Cinema visually sensitised with the deepest sense of orchestration extends below the story like elusive music.
Eaux d'artifice by Kenneth Anger
1953, USA, 13 min, 16 mm
A woman dressed elegantly walks purposely through the water gardens at the Villa d'Este in Tivoli, as the music of Vivaldi's "Winter" movement of "The Four Seasons" plays. Heavy red filters give a blue cast to the light; water plays across stone, and fountains send it into the air. No words are spoken. Baroque statuary and the sensuous flow of water are back lit. Anger calls it "water games."
A Study in Choreography for Camera by Maya Deren
1945, USA, 3 min, 16 mm
Maya Deren's shortest, five-minute A Study in Choreography for Camera seems like an exercise piece to capture a dancer's movement on celluloid, which later on developed into her masterpieces such as Ritual in Transfigured Time and Meditation on Violence.
By the Sea by Pat O'Neill & Robert Abel
1963, USA, 10 min, 16 mm
Collaboration with Robert Abel. Shows the preening men and bikini-clad women on Muscle Beach, Santa Monica in 1963.
The Mechanics of Love by Willard Maas & Ben Moore
1955, USA, 7 min, 16 mm
This show begins with a couple about to make love, and then does a tour of innocuous objects in the room around them that invariably suggest sexual activity.
Window Water Baby Moving by Stan Brakhage
1959, USA, 12 min, 16 mm
On a winter's day, a woman stretches near a window then sits in a bathtub of water. She's happy. Her lover is nearby; there are close ups of her face, her pregnant belly, and his hands caressing her. She gives birth: we see the crowning of the baby's head, then the birth itself; we watch a pair of hands tie off and cut the umbilical cord. With the help of the attending hands, the mother expels the placenta. The infant, a baby girl, nurses. We return from time to time to the bath scene. By the end, dad's excited; mother and daughter rest.
Bullfight by Shirley Clarke
1955, USA, 10 min
Clarke parallels the sense of spectacle and the real violence of an actual bullfight with a dance interpretation of the emotional experience, using a distillation of the ritual gestures in the Spanish bull ring.