OPENING NIGHT 2010
July 13
20h30
program Circuit-Court
22h program Heure Exquise !
Théâtre des Chartreux 105, avenue des Chartreux / 13004 Marseille tel. 04 91 50 18 90
20h30
program Circuit-Court - 56mn
The Relationship between the "Films Sans qualité" and those four films, can be found in the sparing of means that they claim, and in the way they transform triviality. The ordinary desorder, from birth to stake, discuss with eternity, as well as at this time between wakefulness and sleep : facts and inconcevable are mixed together by fragments.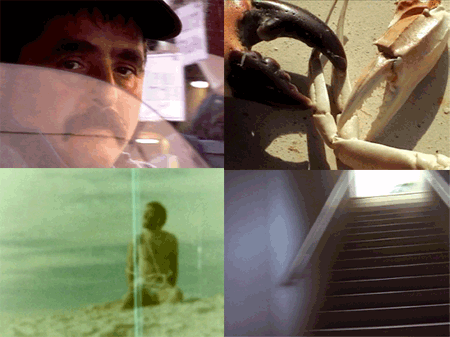 Roma 07 by Vanessa Santullo
4'50, vidéo mini DV, color, stereo, 2007, France
Roma 07 is composed of accumulated fragments filmed on city streets. The film reflects and refracts the archetypal Italian: attitudes, postures, intonations, such are the details that compose this rhetoric of gestures in which ostentatious objects such as the cellphone play a dominant role.
L'éveil d'Abbadon by Luc Pedretti
2', super 8, color, mono, 2009, France
Abbadon, prince of abysses wakes up and brings down on us our own fears. Hostile devil, he tightens his hands on our lungs preventing any breath. Premature birth, relief of a nightmare still knocking as ropes which cut through the flesh. Abbadon in our awakenings has to achieve his acts of destruction, necessary for a balance of life.
Experienced Leonardo Da Vinci by Aynil Pij & Antonella Porcelluzzi
29', vidéo mini DV, color, mono, 2005, France
Year 1517: while he follows only the only experience, that is the reality observed directly in the nature and not its interpretations, Leonardo da Vinci is condemned for heresy. It is thus to escape the sure death on the stake that he hurries to run away in France, accepting the hospitality of François 1st.
Interdit Sauf Cérémonie by Roselyne Frick M
14'07, vidéo mini DV, color, mono, 2009, France
Travelling
, Opened church, Come and see, Forbids except ceremony, Sergeant of the Christ, Apaiseur, Protect us, What's new?..
Hallucination
.
Circuit-Court
Since 1992, Circuit-Court has created a found of hundreds of artist films, shot in Super 8, in 16mm, in vidéo. At the beginning were the "Films Sans Qualité" : films "without quality" means that they glorify ephemeral and unfinished shapes, they cock a snook at academism, under eclectic shapes, going from collective films to self filming. The collection can be consulted on Circuit-Court's internet site, and in the "vidéo on demand" space, that Circuit-Court has opened newly in Marseille.
11 rue du Commandant Mages 13001 Marseille
Tel. +33 (0)4 91 62 46 30
email
www.circuit-court.org
22h
program Heure Exquise ! - 58mn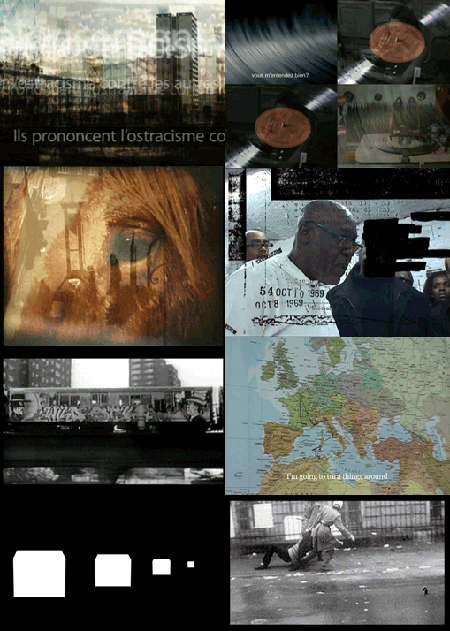 Square Invaders by Xavier AMELLER
France -2009 -7min.30s
A black and white geometric invasion spreads and covers the space in an industrial ritornello and synthetic songs background. They are there and we must find a way to communicate with them. Anthropomorphic approach to a process of overcrowding and exhaustion of space, made with reference to archetypes of science fiction and video games, the film delivers an ultra-rational and synthetic vision of the world.
L'ART DELICAT DE LA MATRAQUE by Jean-Gabriel PERIOT
France -2009 -4min
About the policemen's sensibility.
HIPOLOGY by Julien AMEZ
France -2008 -4min10
Clip of the tune "Hipology" by Roger Molls. Positive side of hip hop culture, dancin', breakin' and scratchin' everywhere in the world. Remember the feeling the first time you have listened hip hop...
MAPPING JOURNEY #1 et #2 by Bouchra KHALILI
France -2008 -7min30
Mapping Journey in an ongoing project initiated in 2008. This set, made of various single channels, confronts the personal experiences of migratory journey with the flat colours of the geographic maps. Thanks to this frontal connection, another map appears, a map created by the trip trial and the inevitable detours.
MEMORANDUM by Mounir FATMI
France -2009 -9min30
FANTÔMES ET AUTRES by Pascal MARQUILLY
France -2009 -12min49
CHEVAL BLEME by Philippe ROUY
France -2009 -3min55
On 17 July 1939 a man was guillotined in public in front of a camera. The eyes of a horse will never know anything of it.
CE DISQUE EST LE MÊME QUE L'AUTRE by Jean-Jacques PALIX
France -2009 -9min
Multi-screens film of 9 minutes, using rushes from full-length films, representing record players or persons handling discs. The soundtrack is the natural mixing of the original sounds of these rushes.
Heure Exquise !
Heure Exquise ! International centre for video arts is a non-profit organisation specialised in the promotion and preservation of video arts and video creations. The distribution catalogue is regularly enriched and covers a wide variety: video art, creative documentaries, new images and animation. This mission is carried out both in France and abroad in partnership with cultural institutions and organisations, teaching and training schools, festivals and events. The Heure Exquise! team helps and advises programmers and curators for their screenings, proposes programme themes and "cartes blanches". Heure Exquise! creates and organises public screenings. Heure Exquise! also ensures the distribution of the audiovisual collections of the Louvre and the Musée D'Orsay. available in the documentation and research center. This unique place safeguards one of the most important collections dedicated to electronic and digital arts in France.
Véronique Thellier
Heure Exquise! Distribution
Centre International pour les arts vidéo
Le Fort - Rue de Normandie
BP 113
59370 Mons en Baroeul
email
www.exquise.org
http://www.musicvideoart.heure-exquise.org
http://www.exquise.org/saison2009-2010/sigurros-15102009.htm