INSTALLATION VIDEOSURVEILLANCE Espaceculture 2011
Low Lux & Super Lux (part one)
by Frank Gatti
between June 2 and June 16, 10h to 18h45, except Sunday
varnihing day
June 1, 18h
Espaceculture 42 la Canebière / 13001 Marseille tel. 04 96 11 04 60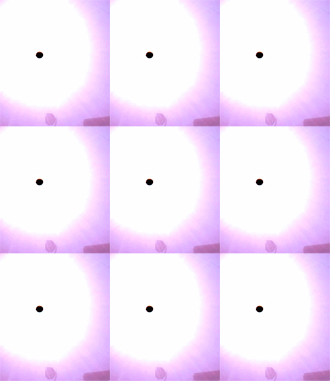 Low Lux & Super Lux (part one)
The goal is to install a simple system of video security with the difference however that the cameras are not pointing in the direction of urban space but toward the sky. Humans need not be controlled. The sky is only rarely contemplated. Impossible to predict what will happen during the time of installation, since the natural light, random, ultimately command the system.
On this occasion, Laurence Denimal and Stephane Nowak Papantoniou, artists and poets, will develop two specific extensions. The first continues here his self-fiction work by incorporating the latest innovations of the company of weapons EADS for the snipers in the army. The second, supporter of erroriste art, will focus on laws and decrees applied to the security camera through texts and a reading / performance on the opening day.
Frank Gatti
Frank Gatti is a videographer, editor / remixer, video performer and camera man. His most recent work is exploring a concret video and abolishing intermediaries narrative.
(soundscape, interpreters, script for improvisation, dialogue, storyline, editing ...) just to keep almost nothing but action to record the space and to form a bloc of sensations strained between the unpredictable and predictable.
He has made, Drone Airlines (featuring ElavY DivX) (2003), Slapstick Social (2009), Unheimlich Breaking News (2011), The Bathers (2011).
email