CLOSING NIGHT 2011
July 16
22h
program Documenting? by Collectif Jeune Cinéma
Théâtre des Chartreux 105, avenue des Chartreux / 13004 Marseille tel. (33)(0)4 91 50 18 90
21h
Zone Portuaire by Emmanuel Vigne & Julien Chesnel - 39mn
a production E V A L U N A F I L M S
The film ZONE PORTUAIRE covers a century of history of the Port of Marseille, from the late nineteenth to the present. It is built exclusively from archival footage, mostly unpublished Movies communication port, sources of the INA, political films, creative works, films, home movies ... As and when his narrative, ZONE PORTUAIRE tells other stories about its origin: that of a city, a country, its relations with its colonies, the transformation of human labor, of the profound changes port cities, the human dramas that are attached to, and beyond, through more than a century of film footage, ZONE PORTUAIRE reflects the evolution of the cinema..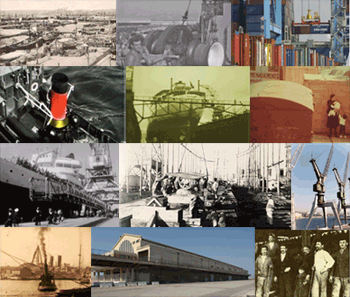 Les réalisateurs
Emmanuel Vigne
, training journalist, is director, editor and film programmer. He worked in many structures, Marseille France 3, Canal Plus, as chief operator, editor and director. It has also invested many places of the city to propose a film and video programming, putting the importance on documentary, experimental cinema, and other rarities unpublished screened in Marseille. Since 2003, supported by its production structure Evaluna Films, he officiates as filmmaker, to his credit with many films made around the world (Mexico, Marquesas Islands, Ivory Coast, Senegal .. .)
Julien Chesnel
, painter, who is experimenting (from 2000 to 2006) within the collective Il lanificio, in Naples, which he is the co-founded, a collaboration with photographers, designers, architects. Back in France, he continues the work shop and explores in parallel the footage that present for him a new material.
E V A L U N A F I L M S
Evaluna Films is a young production structure created by Emmanuel Vigne. It has to his credit more than a dozen stories, from 12mn to 52mn, and many audiovisual commands (television and institutional). Zone Portuaire is the first creative documentary produced by Evaluna Films.
email
www.evalunafilms.net
22h
program Documenting? by Collectif jeune Cinéma - 62mn
A captivating and diversified panorama of recent works from the Collectif Jeune Cinéma's catalog. Films at the border with documentary, others working the intimate experience or questioning the possibilities of images and its underlying reality.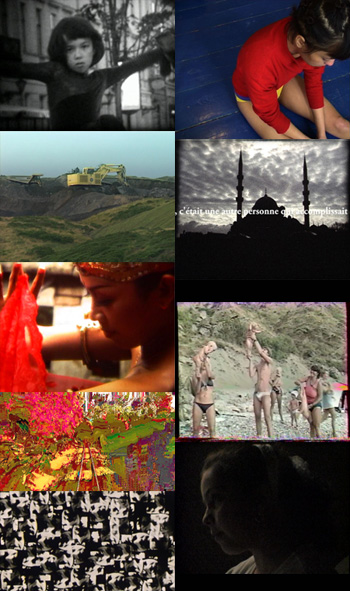 UNTITLED N°1 by Masha Godovannaya
Russia, 2005, 4', coul, stereo
While walking along Nevskiy Prospect in St. Petersburg, Russia, I saw a young girl dancing this harsh, passionate and seductive dance.
HALLO PAPI by Salma Cheddadi
France, 2009, 6', coul, stereo
Last call to her father. Jana is a young German-Thai girl who plays in (almost) all my films. She grew up in Thailand with her father, whom she has an affectionate but distant relationship with. From a room to another, she walks around her apartment where the red, yellow and blue tint areas light the whiteness of the walls up. A pictorial film.
FACE OF AN ANGEL by Anthea Kennedy & Ian Wiblin
UK, 2008, 5'40, coul, stereo
Face of an Angel
was commissioned by Lucca Film Festival as part of its Twenty Puccini project which invited twenty film-makers to produce short works with a Puccini connection.
Face of an Angel
is inspired by Puccini's opera La Fanciulla del West, set during the Californian gold rush. The film is shot in the scarred black landscape of an open cast mine in South Wales, one of the original coal mining areas which fueled the industrial revolution in Britain. Taking the theme of redemption, the film depicts choreographed yellow dumper trucks, portraits of miners and an escape to another life using the painterly surface of low format video. Fragments of music from the opera are woven into an industrial sound track.
RESTER MINCE GRACE A BÉBÉ by Fabien Rennet
France, 2009, 4'30, coul, stereo
Visual hijacking of a 1989 documentary financed by the french Ministère de la Culture and the Ministère des Affaires Estrangères : Igor Tcharkovsky or the impossible dream, a russian guru supported by the Scientologist Church of Leningrad.
ISTANBUL, LE 15 NOVEMBRE 2003 by Fabrice Lauterjung
France, 2004, 11'30, coul, stereo
In Istanbul, November 15th, 2003, I met an old Turkish film director. While he was projecting four super-8 films he had made, he told me a story his city. He explained to me his beginnings in cinema and how he learnt to speak French. He revealed to me a fifth super-8 film and told me about a tower on which countless messages were written in every language. I associated his words with what I was viewing on the screen. This dialogue was not recorded, but its transcription was still possible : I kept the four super-8 films and joined them end to end adding the memory of this conversation : in the middle of the screen like a fine thread, a text scrawls from right to left.
SIO TANTINA by Sandrine Romet Lemonne
France, 2005, 3'10, coul, stereo
Sio Tantina
is an Indonesian tale that speaks of a bird that poisoned himself, a metaphor for the modern man with pollution.
2000 WALLS (A SONG FOR JAYYOUS) by Peter Snowdon
UK, 2006, 6'23, coul, stereo
Night. A terrace on a hillside. Children's voices. A poem. A song. A fragment of time, a moment out of time. Ghostly figures, as if struggling to exist, even here, in their own land. Experimental documentary, filmed in the West Bank, occupied Palestinian territories.
APRÈS LE FEU by Jacques Perconte
France, 2005, 3'10, coul, stereo
A few kilometers from Ajaccio, the burnt earth gives in to the weight of colour. The ground opens up and frees pictorial energies that take over the sky. I see the horizon disappear, but I keep fixing it. The trains continues its way...
VILLE MARIE by Alexandre Larose
Canada, 2010, 17', coul & b/w, stereo
This film is inspired from a dream during which I fall from the top of a high-rise building facing the sky.
Collectif Jeune Cinéma
Collectif Jeune Cinéma (CJC), founded in 1971, has been the first French co-op of different and experimental cinema and works for diffusion and promotion of experimental practices of image and film.
CJC activities are developed through different areas:
- The organization of Paris Festival of Different and Experimental Cinemas, a yearly international event entirely dedicated to different and experimental cinema. Next December its 13rd edition will take place at Les Voûtes from 6th to 11th;
- The distribution of CJC's catalogue - more than 900 titles - to international institutions, museums, festivals and programmers, for non-commercial diffusions;
- The promotion of experimental practices of image and sound through workshops and films support during the screenings;
- All the year the programmation and the presentation of monthly screenings at La Clef theater in Paris.
In 2011 Collectif Jeune Cinéma celebrates its 40th anniversary with several events that will allow a run on our history and films collection.
Collectif Jeune Cinéma
c/o Mains d'Oeuvres - atelier 11 1, rue Charles Garnier
93400 Saint-Ouen
tel+fax : +33. (0)1.40.11.84.47
email
www.cjcinema.org