THE POSSIBLES OF THE PROJECTED IMAGE Les grands terrains 2011
1/25 et plus
by suzel Roche by labelmarseille
between July 12 and July 16, 15h to 19h
finishing July 17, from 19h
les grands terrains 8 rue vian 13006 marseille tel 09 54 20 15 85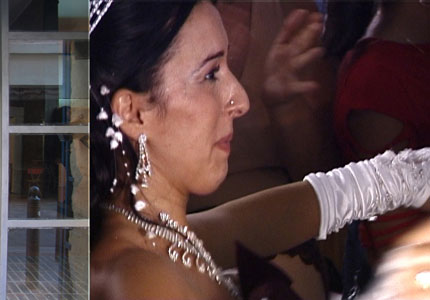 1/25 de Suzel Roche
14mn10, couleur, stereo, 2003, France
1/25, a video, to keep time, to find it again and as a pagan rite, eating the happiness that could contain the image.
1/25 and more: to install the video and to stop a little more the time, by the cables, the canvas. You are Going up? You are falling ? Between ecstasy and anguish, a question of verticality ... Suzel Roche
[ selection Images Contre Nature 2004 / pr. perception / ref catalogue : D1003 ]
the possibles of the projected image
The labelmarseille offers to an artist listed in the catalog of video library P'Silo, how to invest the screening of one of his works. Through the use of a malleable medium of projection, the artist will fit the screen, sound distribution and reception of the audience, in order to extend the experimental work developed into one of his works.
For this first year, the director Suzel Roche has responded to our invitation, with 1/ 25, or how the 25 frames per second allocated to research a fleeting happiness, will deploy in the place of "les grands terrains", their suspension timeless.
labelmarseille
labelmarseille is an association of artists, scientists, social and cultural actors, amateurs or art professionals, who engage their professional experiences and skills to support the creation of collective works.
email
les grands terrains
les grands terrains are a laboratory in the form of an artistic, cultural and social cooperative. Spaces, and the skills of all are combined to support multidisciplinary projects and transverse to reassess the impact of each in the contemporary creation.
les grands terrains
8 rue vian 13006 marseille
tel. 33 9 54 20 15 85
email
grandsterrains.fr