INSTALLATION VIDEO Espaceculture 2014
Suppléments d'âmes
by Emmanuelle Sarrouy & Jean-Paul Noguès
between June 6 and August 23, 2014, all the nights from 21h
screening visible from La Canebière on the second floor's windows of the Espaceculture
June 6, 20h
varnsihing with a reading by Emmanuelle Sarrouy
Espaceculture 42 la Canebière / 13001 Marseille tel. 33 4 96 11 04 60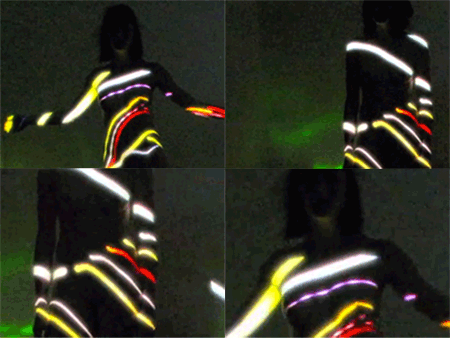 Description of the work
Supplements of souls is a work which in a very contemporary way allies several artistic disciplines : the literature, the dance and the video art. It is at first a text evoking how a body can carry and claim an idea and sublimate it. Then, it is by the dance that this idea is embodied : in the half-shade, a dancer who is visible only by the video projection of images on her body. Images of bright rays of light which spin to draw her silhouette in movement. And create a poetic and magic vision. In this night system in the Espace Culture, this dance silhouette will appear to the central window of the 2nd floor, like a supernatural tenant. On two other windows of the 2nd floor, will join the words of the text which the dancer evokes. This video installation is intended to call out to the walker of the summer nights. He allows to make bring out the art of galleries and museums and to meet the inhabitants of Marseille and the visitors in an unexpected and playful way. It proposes a break time in the daily race of the passers-by, a suspended moment of visual poetry.
Note of intention
The creative emotion which raised these privileged souls, and which was an overflowing of vitality, spread around them :
Enthusiasts, them shone an enthusiasm which went out never completely and which can always find its flame.
Henri Bergson in Both Sources of the morality and the religion, 1932
To expose, intend, it is to put forward, to throw with strength to the front of oneself. Put into action, in movement in a space/time which becomes "other" and allows by its processing " to consider differently ". The portrait and its multiple facets, as a performance of our intimate mirrors to say the world differently.
There is this idea which we pursue, each in our own way, to dig, to look in the movement, the bodies, the matter and the light our part of humanity (in perpetual a becoming). Resistant, persistent, brilliant. Include (meaning to set with). Work the portrait in the movement and the immobility, in the immanent presence, the appearance and the disappearance, of the human and animal bodies, in the relation of the text on the image and of the image to the text, in the fulgurance of the idea.
Praised to the skies, lovingly. Because it is always about a run-up, about a drive, a vital song carried by the vibrations, the waves and the musical breath. A magic spark seizes gestures and looks and drive us in a dance which carries the memory of the people and their future.
Supplements of souls
Movies as portraits of humanity
Because love is the real engine of the action
Because we come every day to the World
Let us not wait any more for this little something more which aims towards the creative act
This supplement of soul
A run-up, which crosses us and commits us
Let us seize it bodily, lovingly
Let us act poeti(liti)cally again and again
Because we never shall be subtracted from the World
We shall want it better, infinitely
The soul and the bodies embarked in poetics
To try to defend a certain idea of the world…
Emmanuelle Sarrouy author
Born in Lausanne, Switzerland, 1968. Lives and works in Marseilles, France.
Emmanuelle Sarrouy has spent her childhood by the English Channel, in Dieppe, Normandy. She arrived in Provence in 1988, and has lived between Marseilles, Aix-en-Provence, Cassis and Lourmarin. She studied english, italian, spanish and, in 1993, passed a Master in cinema and audio-visual techniques on Gore Movie under the supervision of Nicole Brenez. First, script translator for animation movies, then location manager for cinema, she has been casting director since 1996.
Curator for the Aix-en-Provence Festival Tous Courts since1995, she has been in charge of the "Aixperimental" program - a program of experimental films and videos- since 2001, in collaboration with Jean-Paul Noguès.
Today, she is an experimental video director, poet, working on video poems, installations (multimedia instal on childhood quest) and on writing projects. Her films have been invited in many festivals : Cinémas Différents (Paris), Vidéoformes (Clermont-Fd), Instants Vidéo (Marseille), Images Contre Nature (Marseille), Hambourg (Allemagne), Printemps des Poètes (Paris), Videopoesia (Buenos Aires), Zebra Poetryfilm (Berlin), Festival du Film d'Aubagne, Cinémathèque Française (Paris), Galerie La Traverse (Marseille), SAFFIR Galerie Nomade (Marseille), Hydrib (Marseille)… Member of the Collectif Jeune Cinéma and S.A.C.D. she creates in 2007, in collaboration with Jean-Paul Noguès, the production socity Endogène.
  Writing has always been her first passion. She wrote theoretical articles about cinema and experimental cinema, especially in Admiranda, Reperages, Simulacres, Exploding, Les Inrockuptibles. From 2002 to 2004, she is correspondent for Le Technicien du Film. In 2003, she is co-author of a book about TV series "Nos Séries cultes" (Tana editions). In 2005, she is co-author of the film's book "Paris, je t'aime" (Hachette editions). In 2010, she contributes to the Samuel Bester "Sylt, le pays où la terre recule" dvd booklet ("Météorologie de la disparition" + interview). In 2011, she publishes "Séisme(s)", a testimony-book, long earthquake and tremor poem, about Haïti and adoption adventure.
Great fan of cultural mix of all kinds, she works on hybridization of forms and genres. Emmanuelle has always been flirting with the diary form, compilating, collecting, archiving, recycling, small forms, poetry… She regularly works on portrait-painting and hybridization between man and animal, she calls it Humanimality ; between man and nature, she calls it Humanaturality.
email
Jean-Paul Noguès director
Born in 1967. Lives and works in Marseilles, France.
Jean-Paul Noguès has grabed his first camera in 1975, being cameraman for a super 8 film shot at the end of the primary school ! Bass player in different rock bands between 1988 and 1995, he has studied cinema in Aix-en-Provence where he passed, in 1993, under the supervision of Nicole Brenez, a Master entitled « The rock representation in movies from 1970 to 1981 ».
Location manager for cinema and television, he has become during almost ten years curator for the short-film international competition of the Festival Tous Courts (Aix-en-Provence, France) where, since 2001, he has been in charge (in collaboration with Emmanuelle Sarrouy) of the experimental program. He has been president of the festival from 2008 to 2012.
Since the dawn of the XXIst Century, Jean-Paul Noguès has begun filming in digital video."My films are talking about love, body, intimacy. They work on the image penetrating the heart of matter, of texture, and rediscovering the abstraction coming from daily life, from woman's body, from man's body, between terror and passion."
Among a number of screenings, his films have been showed in the following festivals : Cinemas Differents (Paris, France), Cote Court (Pantin, France), Videoformes (Clermont-Fd, France), Tous Courts (Aix-en-Pce, France), Oberhausen (Germany), Rotterdam (Nederlands), Instants Video (Mar del Plata, Argentina), Images Contre Nature (Marseille, France), Arrets sur Images (Charleroi, Belgium), Underground Lausanne (Switzerland), Extreme Love autour de Philippe Grandrieux (Tokyo, Japan) and at the Cinemathèque Française (Paris, France).
Member of the Collectif Jeune Cinéma.
email
Emilie Garetier choreographer
Born in Marseilles in 1988. Lives and works in Marseille.
From 2002 till 2006, Emilie Garetier go to the National Academy of Dance of Avignon in fitted out schedules and obtains in 2006 the Literary high school diploma Option Art Dances with Distinction at the High school Mistral of Avignon.
Between 2007 and 2011, she does several training courses in the Junior Ballet of Geneva (Artistic direction Sean Wood and Patrice Delay) and in various workshops with the Companies Rosas (Anne Teresa de Keersmaeker), The Forsythe Company, Ultima Vez ( Wim Vandekeybus) and Batsheva Company ( Ohad Naharin). She will be a dancer and an extra in " Big 3rd episode - Happy End " Superamas during the Festival IN of Avignon.
In 2011, she is dancer for the Company Alias of Geneva (Choreographer Guilherme Bothelo) and leave on tour to Brazil.
Back to Marseilles, she is a dancer extra in Cléopâtre de Jules Massenet in the Opera of Marseille, then she enters from 2012 the Company Kelemenis et Cie (Marseilles) and in Zemmour Ballet ( Marseilles).