ESPACECULTURE 2015
Burn Out by Christine Gabory & Caroline Beuret
Espaceculture 42 la Canebière / 13001 Marseille tel. 33 4 96 11 04 60
June 5, 2015, 18h
vernissage
between June 6 and July 11, 2015, 10h to 18h45
Burn Out
Burn Out
is made into two different parts:
- Trente-trois tours et demi par minute
, a video

- Terminal Terrestre
, a photo exhibition.
Trente-trois tours et demi par minute
[...] Gregorovius, Wong, and Ronald were looking at the record that was spinning slowly, thirty-three and a half revolutions per minute, no more no less, and in these revolutions there was Oscar's Blues, Oscar himself on piano, of course, a certain Oscar Peterson, a certain sad, fat pianist, a guy on piano and the rain on the skylight, all those things, literature, after all
. Julio Cortazar, Hopscotch, 1963.
On the shore of lake Titicaca: Copacabana.
During daytime - tourist migration oblige - swarms of plastic swans with Hispanic first names look with a washed-out eye at the glittering surface of the lake, while others rock on it...
At night, during rainy season - falling upon us - an outdoor party: "Las candelas". Lots of beers, people throw the remainders of their glasses on the ground, the frills of the Bolivians' skirts spin in rhythm with the rounds of drinks. The beer is light but at 3800 meters high, makes us very shaky.
In a monochrone system, time is also considered a tangible reality. We call it saved, spent, wasted, lost, invented or long, we kill it, or it just passes.
Edward T. Hall, The Dance of Life: The Other Dimension of Time, 1983.
Here, it is diluted, shared, placed, confused with the sky on a stormy evening.
Thirty-three and a half revolutions per minute
is a visual and sound groundwork with two different sides. Both directors explore and conjugate their points of view in retrospect. They are embarked on a symbolic "raft of the medusa", grounding on the shores of lake Titicaca as a first stopover.
June 5th to June 20th 2015: A-SIDE
Images: Christine Gabory / Sound: Caroline Beuret / Editing: 360° et même plus film collective
June 20th to July 11th 2015: B-SIDE
Images: Christine Gabory / Sound: Caroline Beuret / VJing editing: Caroline Beuret assisted by Christine Gabory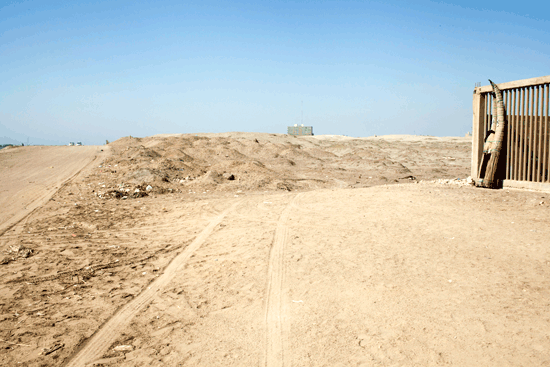 Terminal Terrestre
Land Terminal
is a compendium that will be made up of interviews and 200 photographs collected on the roads and indigenous lands of Latin America, in Peru, Bolivia and Ecuador. The spine of this assemblage originated in something like a frantic road movie. A 48-day journey in which territories will emerge, bearing the marks of town planning policies in the service of neoliberalism.
In terms of territorial issues, I imagine these policies as pools of thoughts, ideological reservoirs packed with verbs such as planning / exploiting / investing / privatising / concreting / building / developing / rehabilitating / destroying / redeveloping / razing to the ground and then starting again, if still possible.
For this exhibition, I present a first slab of images made in Peru focusing on a beach alongside the town of Pimentel.
A seaside resort was stranded there, on the northern coasts of Peru, on the edge of an "agitated" Pacific. This place is an appendage of a dumping ground, itself preceded by a stone desert. The surface summons up war images, but I can't determine whether this war is over, still going on, or to be feared...
Images and words by Christine Gabory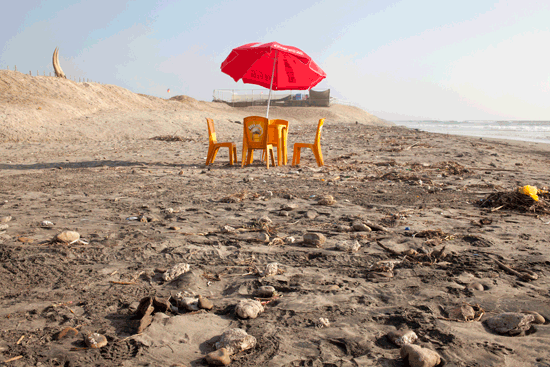 The artists
From an obsession - the partial escape to another continent to join some people there - two friends, intend to be companions of a journey. Caroline Beuret, an editor and filmmaker adept of a cinema of the real, shot without limits of time and form, is looking for a conjugation of the verb "to inhabit" that turns here into rambling, letting go and total listening. She takes bursts of sound.
Christine Gabory first gives herself over to visions of the dusty roads of the Panamericana, alternating photographic and cinematic shoots. Later she makes short series - following the random stopovers of their journey - from which emerge artefacts of crazy town planning, as much as of protected paradises. In erratic quest for traces, short-lived imprints, reflecting the vitalities and the collective entropies, she matches colours, patterns, resurgences of an inhabited territory peculiar to each place gone through.
Contacts
Christine Gabory
33 9 70 44 93 60
email
http://www.360etmemeplus.org
Caroline Beuret
33 6 03 71 39 80
email
https://vimeo.com/user6242661/videos
http://www.derives.tv/Thivolle
https://numer0zer0.wordpress.com